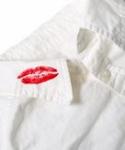 What shall we say then? Are we to continue in sin so that grace may increase? May it never be! How shall we who died to sin still live in it? (Romans 6:1-2)
A pastor wrote a rather interesting article in a minister's journal; it dealt with a problem in the bathroom of a middle school in Oregon. Girls were setting the precedent of pressing their lips to the mirrors after applying lipstick, leaving dozens of messy lip prints all over the glass.
When the principal declared that something must be done, she devised a rather ingenious plan and told the custodian exactly what to do. After summoning the girls and the custodian to the bathroom, the principal explained that the lip prints were causing a major problem for the custodian, and instructed that the girls stop the nasty practice that wasted his valuable time.
Of course, the girls were oblivious to this request and were irritated at having to meet with the principal—they didn't even try to hide it. Not being deterred, the principal continued with her scheme, and asked the custodian to show them how he had been cleaning the mirrors each day after school.
He promptly took out his long-handled brush, dipped it into one of the nearby toilets, and scrubbed the mirrors with the brush. The girls' mouths dropped open in shock. Not surprisingly, since that demonstration, the lip prints have never reappeared!
To read more, click HERE