Originally posted on Sola Dei Gloria:
My, My. Guess this is the 2012 version of The Old Church sign which use to announce this coming Sunday's sermon title or something else as benign as;  "All Are Welcome! – Come On In and Sit a Spell"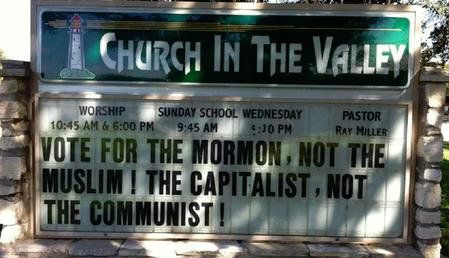 LEAKEY, Texas — A controversy regarding a political sign prominently displayed outside a church is playing out in a small town west of San Antonio.
Is it protected speech or political hate? And does it have a place on a church marquee? The sign reads, "Vote for the Mormon, not the Muslim! The capitalist, not the communist!" That marquee standing outside a non-denominational church has become the talk of the town in Leakey — about 90 miles northwest of San Antonio.